What is web-to-print?
Web-to-print is a general term which refers to print orders that are transacted online. These orders could be for flyers, brochures, business cards, stickers, pens or even mugs. The end product could be a number of things, but they can all be ordered online through a web to print system.
Most web-to-print orders involve an element of personalization. In this instance a customer will enter name and contact details into a custom built Template – such as a business card – before confirming the quantity and type of card needed and then "checking out."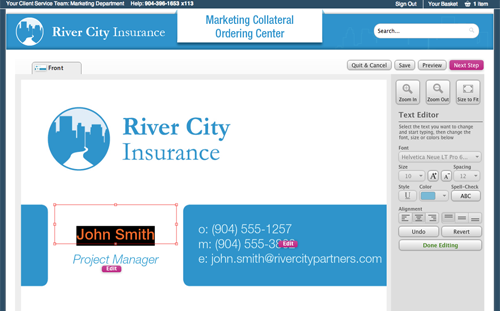 Why use a web to print system?
1. To save time. The traditional process for ordering print would involve contacting a printer, ordering a new job, waiting for a proof, requesting changes, before finally signing the job off for print. This could take up to a week and then it may then take an additional 5-7 days for the order to be produced.
A web-to-print system simplifies this process and allows orders to be placed in minutes, rather than days.
2. To save money. Costs attributed to paying a designer to make changes are removed as this is done by the customer at the time of ordering. A web-to-print system will also allow you to harness your group's buying power – usually giving access to discounted products and special deals.
3. To improve brand alignment. A brand is important to every businesses no matter what the size. However, for a large multi-site or a franchised network there is a danger that with so many people using the brand, somewhere along the line it will be interpreted in different ways.
By ordering from Templates on a web-to-print system the Head Office has greater control over how the brand can be used, ensuring that it remains consistent throughout the network.
Do I need a web-to-print system?
If you have a network of people who all need to place print orders using a common brand, then a web-to-print system is the easiest, most cost-effective and and most secure way to enable this.
Why use BrandDemand?
The BrandDemand web-to-print system is easy to use – no special design or web skills are required. The system has been built around the user experience and is simple to navigate.
It is also integrated with the printing.com product range – giving a complete solution and having a suite of tools to help you manage and monitor your network's marketing activities.